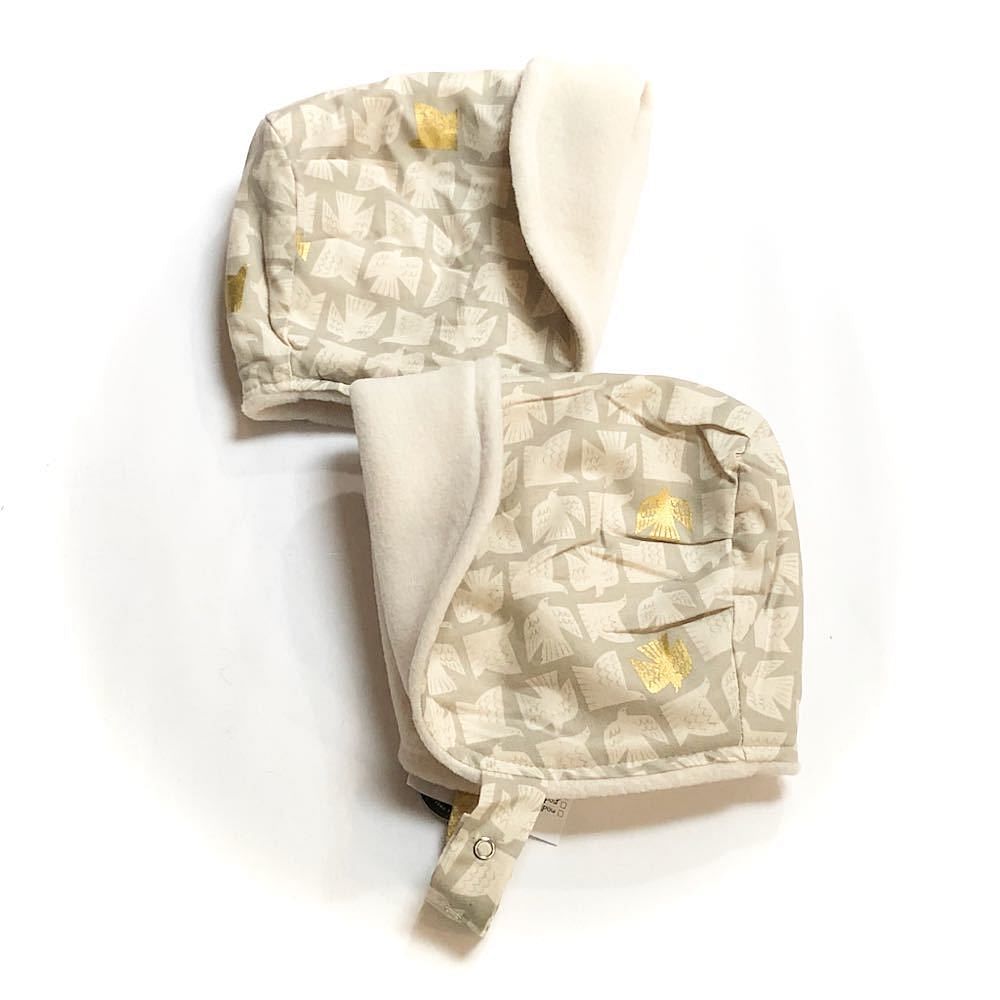 Winter Bonnet in Golden Doves
Cozy up wintertime style with our Winter Bonnet in Golden Doves! Soft ivory fleece and delicate golden metallic doves make this bonnet so peaceful (and seriously warm!). Plus, it's perfectly themed for holiday giving.
Play in the snow!
Take a walk on frosty mornings!
Enjoy the crisp chill of winter with Baby and forget about about cold ears.
Leave sun & wind burns behind!
Just like their spring and summer counterparts, the skiBonnet uses hip, mod fabrics and sleek polished styling to protect your little one from the elements! The skiBonnet features a 100% cotton shell and a thick, soft, non-pill fleece lining. The skiBonnet will protect your special little one from wind, cold, rain, and snow…. In style!!!
About the ub2 skiBonnet:
cool mod fabrics (plain fabrics also available)
UPF 50+ sun protection
seamed brim supports the hat without stiffness
contrasting, coordinated colors 
colorful, soft, warm non-pill fleece lining 
protects from sun, wind, cold & rain 
adjustable chin strap with extra snaps 
discrete breastfeeding (fold brim down) 
wearable in front or rear facing baby carriers 
snaps mean that the hat stays put! 
designed by a MOM 
Often imitated but never duplicated in style, functionality, fabric design or craftsmanship, UB2 bonnets are cool, fun, funky, functional, super-cute and distinctly original! UB2 bonnets feature a seamed brim, which allows you to fold back as much or as little of the brim as you like—all without using fabric stiffeners. And, better yet, the UB2 brim won't flop down into your little one's eyes.
The bonnet has a 100% cotton shell and a 100% polyester anti-pill fleece lining. It can be hand or machine-washed. We recommend that you reshape it after washing and line dry it. You can put it in the dryer, but the cotton may shrink a bit… help prevent climate change… line dry your hat!
NOTE: winter bonnets are made using our seamless pattern, which runs slightly smaller than our seamed brim.  If you are between sizes, or close to the next size, please order UP.
Item is in stock
Hurry, Only

1

Left!
Item is out of stock
Item is unavailable
Hat Features.
* All of our hats are rated to provide UPF 50+ protection, the highest protection any article of clothing can offer.
* Our hats are reversible.
* They provide discreet breastfeeding.
* The snap-strap means your baby CANNOT pull the hat off.
* All of our hats are HANDMADE by work-at-home women in the USA.
Winter Bonnet in Golden Doves
Sizing Advice.

Always Measure for the Best Fit.

If you have questions about size, please let us know. 

What size should I choose?

Each of our hat styles fit slightly differently, and therefore, they do have slightly different sizing recommendations.  See below by hat style, and we've done our best to help you decide what size is correct.  In EVERY case, though, the best way to know what size to order is to MEASURE your child's head circumference.  We offer age ranges as a rough guideline but head shapes vary and children, even when "big" or "small" for their age can have widely varying head sizes.  Age is NOT a reliable predictor.

* Bonnets--

Our modBonnets and ecoBonnets are exactly the same except for the choice of fabrics.  Both tend to run LARGE.  Except for the XXS which is designed to *actually* fit newborns, if in doubt, size down.  Our XL bonnet is HUGE and is ONLY for children whose head circumference is above 21".

Our skiBonnets run small.  Sizing up is advisable if your child is at the end of the size range.  The fleece tends to be thick and while we prefer a very snug winter hat (no wind!), not everyone does.  If you're in doubt, size up.

* Buckets--

These run true to size.  If in doubt, size UP.

* Brimless bonnets--

These run true-to-size.  If in doubt, size UP.

* Caps--

Our spring/summer caps tend to run true-to-size or a tad large.  They are designed to fit all the way down on the head, so the edge of the cap is at about the bottom of the ear lobe.  We designed the hats this way so they provide full sun protection for the entire ear.

The caps will appear TOO TALL if you're looking for an above-the-ear fit.  

The caps fit best when worn at an angle, with the elasticized back down below the bulb of the head and the brim up just below the hairline.

If in doubt, size UP.

Our skiCaps run SMALL.  If your child is towards the end of the size range and you do not want a snug fit (snug fits are great for wind protection), then please size UP.

* Pixies--

Our pixie hats run LARGE.  They can be folded back even at the snap point for a smaller and shallower fit.  Stay within the size range or if you're in doubt, size DOWN.

* Pilots & Ear Hats--

Pilots and ear hats use the same pattern.  They tend to run LARGE.  If in doubt, size down.
Ship Times.

Most Orders Ship in 1-4 Business Days.

If you need your hat FAST, though, please send us an email or make a note in your order and we will ship it right away!

Transit times vary but usually are:

Domestic-

2-5 business days

Express mail is 1-2 business days.

International-

First class is 7-21 business days

Priority mail is 7-10 business days

Express mail is 3-5 business days

Keep in mind that these are ESTIMATES, and actual transit times depend on many variables that are out of our control. Thank you for understanding.
Care Guide.

Our Beautiful Hats Can Withstand Lots of Abuse!!

*You *can* machine wash and tumble dry them... but they will shrink, usually 4-6%.  

*We recommend hand wash & line dry.

*Ears on our ear hats should be removed before washing and should be spot cleaned only.

*Poms on our brimless hats should be spot cleaned only.  Use a hair dryer to puff the poms back up to their original loft & softness.

*Wool items can be SPOT CLEANED ONLY.

*Mariner cloth shinks significantly and should be hand washed only.

* Silk items should be hand washed only.
Our Guarantee.

Guaranteed for Life.

We never expect that there will be a problem.  But we're human and our items are handmade.  Every once in a while, a stinker of a snap or an off-kilter seam slips through, even though every single hat is triple checked for quality. 

No matter what the problem is, if you're not happy, we're not happy. It's that simple.

And so, our bonnets are totally guaranteed against manufacturing defects, for LIFE.  Shrinkage, wash fading, and color-bleeding when exposed to pool chemicals or sunscreens of any type are not considered manufacturer defects.

If you have a problem, email us and we'll work with you to make it right. 

Warranty coverage extends even to people you pass the bonnet on to.  They're guaranteed, forever. Once we see the defect, we will repair or replace your hat at our discretion.

Of course, we can't really help if your dog chews up your hat or if you accidentally put it in the blender. 

Please note that because of variability of washing methods, washing machines, water temperatures, previous chemical exposures (i.e., sunscreen) and detergents, we do not guarantee that your 100% cotton bonnet will not shrink or fade or bleed in the wash. 

But if it's something we didn't do quite right, we'll MAKE it right.   

We're proud of our products and we stand behind them.  100%.